Biography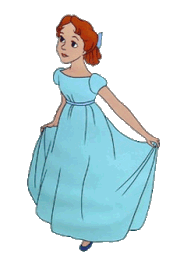 Wendy darling is the tritagonist to disney's peter pan, and it's sequel. She's a 12 yr old girl who lives in london, England with her mother, step-dad, dog, and 2 younger brothers. 
As in the movie, we can see that she's good with children, and even acts motherly toward them--growing up to have kids of her own.
Personality
Sweet
Easily flustered
Creative
Motherly
Appearence
Wendy has short brown hair, pinned up by a blue bow. She wears a sky blue night gown, and dark blue flats. She also wears red lipstick, and has a slender body with baby blue eyes.
As an adult, she wears a pink robe and her hair is tied up into a back bun. She also wears pink house shoes on her feet.
Also appears in
House of mouse
Peter pan 2
Kingdom hearts
Disney junior princess sing along volumes 1-2
Her hit song
Wendy sings, your mother, in peter pan to the lost boys.
Favorites
The color blue
Strories
Fantasy
Children
Trivia
Wendy shares the same features with alice.
Wendy lives in the same area as jane darling and alice.
Wendy was born on same day as alice.
Wendy wears blue and likes blue like alice.
Wendy is 12 like alice, melody, eilonwy,  and shanti.